Shopping for clothes in Spanish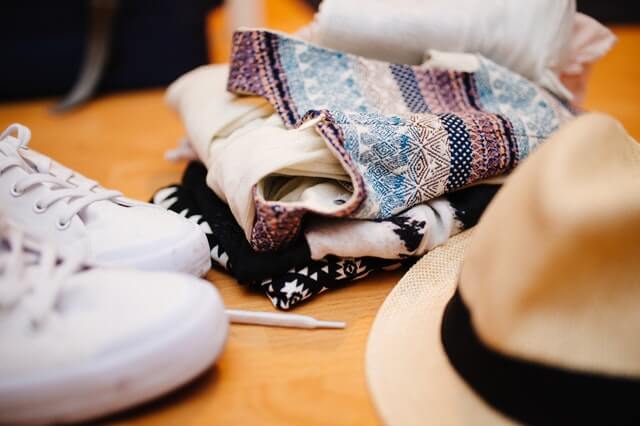 I've been shopping recently (a lot of things on sale this month in Spain!) so I wanted to give you some vocab and phrases so that you can also enjoy the sales in Spain, in Spanish.
Let's start!
Vocab
Talla XS/S/M/L/XL... or extra pequeña/pequeña/ mediana/grande/extra grande...
Botton half: 32 - 48 aprox
If you want something smaller or bigger than these you'd say más grande (bigger) or más pequeña (smaller).
Número de zapato - shoe number
35 - 47 aprox for adults.

Dependiente/ dependienta - shop assistant

Los probadores - The fitting rooms

El precio - the prize

Barato/a - cheap

Caro/a - expensive

Descuento - discount

Rebajas - sales

Devolver - to take it back/return something

Pagar con tarjeta / pagar en efectivo - To pay with card / with cash

The ticket - The receipt
Phrases
Shop assistant
¿Necesitas ayuda? – Do you need help?

¿Puedo ayudarte?/ ¿te puedo ayudar? –Can I help you?

¿Qué estás buscando? – What are you looking for?

Ya no quedan más (en esa talla) – I don't have any more (in that size)

Tienes un plazo de 15 días/un mes para devolverlo – You have 15 days/1 month period to take it back.

No hacemos devoluciones – We don't make refunds

Puedes cambiarlo por otra cosa - You can change it for something else

Sígueme – Follow me

Los probadores están ... - The fitting room are...

Voy a tener más - I'm going to have more

Esto tiene descuento - this has a discount

Tienes que pagar en efectivo - you have to pay in cash

Aquí tienes el ticket - Here you have the receipt
Client
Solo estoy mirando – I'm only looking

¿Qué tallas tienes? – what sizes do you have?

¿Tienes esto en la talla...? - Do you have this in the size__?

¿Puedo probarme esto? – Can I try this on?

¿Dónde están los probadores? – Where are the fitting rooms?

¿Cuánto cuesta esto? / ¿Qué precio tiene? – How much is this? What's the price?

¿Puedo pagar con tarjeta? – Can I pay with card?

Esto tiene un fallo. ¿Tienes otro/a? – This has a defect, do you have another one?

Estoy buscando … - I'm looking for…

¿Puedo devolverlo después de verlo en casa? – Can I take it back after seeing it at home?

Es demasiado caro - It's too expensive

¿Tiene descuento?/¿está en rebajas? - does it have a discount? / is it on sale?
Those are the most common things you'll need, if there's anything else leave a comment below :)
Good luck in your Spanish and in your shopping!