Enough in Spanish: Suficiente...mente?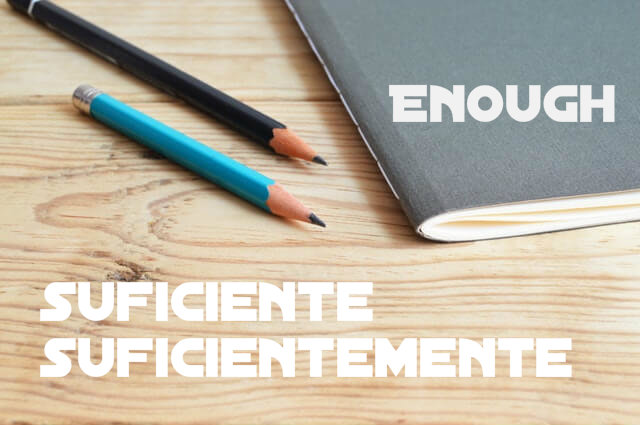 Both mean ENOUGH. Yep!
So how do you know which one to use?
Don't panic, it's all about the word after:
Suficientemente
Suficientemente + adjective
What's and adjective? it's a quality, a state, a characteristic.
Suficientemente bueno - good enough
Suficientemente bien - well enough
Estoy suficientemente preparado - I'm ready enough.
Laura es suficientemente rápido - Laura is fast enough.
Estamos suficientemente cansados como para ir a casa - We're tired enough to go home.
You see you can add "como para + infinitive" and that would mean "to do...":
¿Estás suficientemente bien para ir de senderismo? - Are you well enough to go hiking?
Suficiente
The verb here will be an action.
So, the combination will express to do something enough (frequently enough or intensely enough).
¿Corres suficiente para ganar? - Do you run enough to win?
A noun is a person, a thing, an animal or a concept.
We'll use these two together to talk about amount of something.
Because we have a noun, suficiente will be suficienteS when the noun is plural.
¿Tienes suficiente pan? ¿Suficientes platos? - Do you have enough bread? enough plates?
No tengo suficiente paciencia -I don't have enough patience.
No hay suficientes sillas para la fiesta - There are not enough chairs for the party.
Practice
Fill in the gaps with suficiente, suficientes (plural) and suficientemente.
Estamos _____________ despiertos
We're awake enough .

No tengo __________ comida para hoy
I don't have enough food for today.

No estudias ________
You don't study enough

Hay _________ profesores en la excursión
There are enough teachers in the trip

Eres ____________ listo para resolver ese problema
You are clever exercise to solve that problem

No hacemos _________ ejercico
We don't do enough exercise
Solutions: suficientemente/suficiente/suficiente/suficientes/suficientemente/suficiente
Hope that helped!
¡Hasta pronto! :)